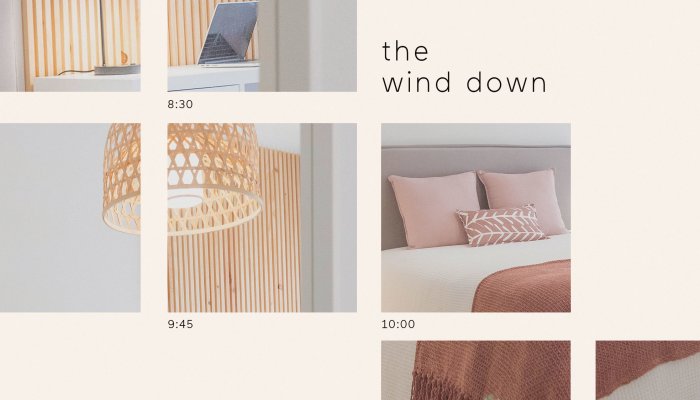 This is my routine when I'm at home, and it differs slightly when I'm on the road. During travel, I have to be very intentional about staying well-hydrated and being mindful of my sodium intake. Too much salt and not enough water make it very hard for me to sleep. When I travel, I absolutely rely on a sleep aid like melatonin or sleep support+. I've also been known to travel with lavender room spray. 
6 p.m.: Start dinner. Cooking is something that I love, it's meditative and grounding. By this time, I usually don't have my phone nearby as my focus is on my family.
7:15 p.m.: Sit for family dinner. For me, it's less about what I eat and more about when I eat. We generally have dinner at 7:30 so there is enough time between dinner and bedtime. I like to make sure I'm not eating and directly laying down.
8:30 p.m.: Wash my face and head back downstairs to check in with my husband and sit on the couch
9:45 p.m.: My phone tells me it's time to wind down, and the truth is by this time, I'm ready for bed so it does not take much for me to sleep. Once I'm upstairs, I don't check my email. I put my phone out of arm's reach. We also do not have a TV in our room.
10:00 p.m.: Brush my teeth and sometimes take a sleep support supplement
10:15 p.m.: Once I'm in my bed, I'm usually asleep within 5 minutes. We keep our room cool, dark, and free from clutter. It's quiet except for the white noise machine that my husband turns on when he goes to bed.