Story written for CBS News and used with permission
NASA is tentatively targeting August 29 for the long-awaited first flight of the agency's Space Launch System's massive lunar rocket, officials said Wednesday. But they cautioned that significant challenges remain for the massive missile, which is so much delayed and an official date won't be set until later this summer.
As it stands now, the launch processing schedule is very tight and subject to change, depending on the successful exit of the repaired hydrogen line installation, good results from thorough pre-flight checks of countless other missile systems and the completion of everything in time to return it to the platform. Launching around August 18th.
Determining a stable launch target for the Artemis 1 mission is challenging in part because work on repairing the hydrogen-fast separation installations has been more invasive than initially anticipated, requiring repair crews to work inside the narrow rocket first, said Jim Frey, NASA Director of Exploration. stage engine compartment.
Repair work was completed over the weekend, and while the system still needs to be tested amid other launch preparations, NASA hopes the SLS will be ready to take off by the end of the 25th launch period, which begins August 23. Until September 6.
The current "no before" planning date is August 29 at 8:33 a.m. EDT, with backup dates available September 2, 12:48 p.m., and September 5, 5:12 p.m.
The next launch period after that, the LP-26, begins on September 19 and runs through October 4, but NASA planners prefer the LP-25 because it offers longer daily launch windows and longer missions lasting about 40 days. Assuming a launch on August 29, the Orion capsule will return to Earth 42 days later on October 10.
Free said the timeline as it is now "brings us in line" with August 29 "with what we know today."
"These are dates like the other missions, so it's not a commitment by the agency," he said. "We will commit to the agency on a readiness to fly review, a little over a week before launch. But those are the dates the team is working on."
The much-anticipated Artemis 1 launch will send the crew's Orion capsule on a test flight beyond the moon and back, ending with a 20,000-mph return that will expose the spacecraft's heat shield to temperatures of 4,000 degrees—the mission's primary goal.
If the initial test flight goes well, NASA plans to launch four astronauts atop a second SLS rocket for a vibrational flight around the moon in 2024 – Artemis 2 – before sending the first woman and first people of color to land near the moon's south pole in 2025 or 2026 as part of Artemis 3 mission.
Next, NASA plans to launch periodic missions to the Artemis moon, sending astronauts to Antarctica to research, explore, and search for accessible ice deposits in permanently shaded craters, a potential resource that future crews could turn into rocket fuel, air and water.
But first, NASA must put the SLS and Orion capsule through their paces, and that begins with the launch of the Artemis 1 mission.
Due to refueling constraints and other factors, NASA will typically only have three launch opportunities in a given week. Complicating launch planning, the SLS can only fly when the Sun, Earth and Moon are lined up so that the solar-powered Orion capsule doesn't experience extended periods of eclipse in Earth's shadow. NASA also wants to ensure that daylight falls.
The August 29 launch takes all of these factors into account. But this scenario assumes that hydrogen vent line repairs, engine compartment checks, shutdowns, and other pre-flight preparations can be completed in time for launch to the platform on August 18.
Once launched, NASA will have about three weeks to launch the rocket before the batteries are replaced in the upper stage self-destruct system, work that will require returning to the vehicle assembly building. In this scenario, the launch would drop to the end of the 26th launch period or, more likely, to the 27th launch period, which begins on October 17th.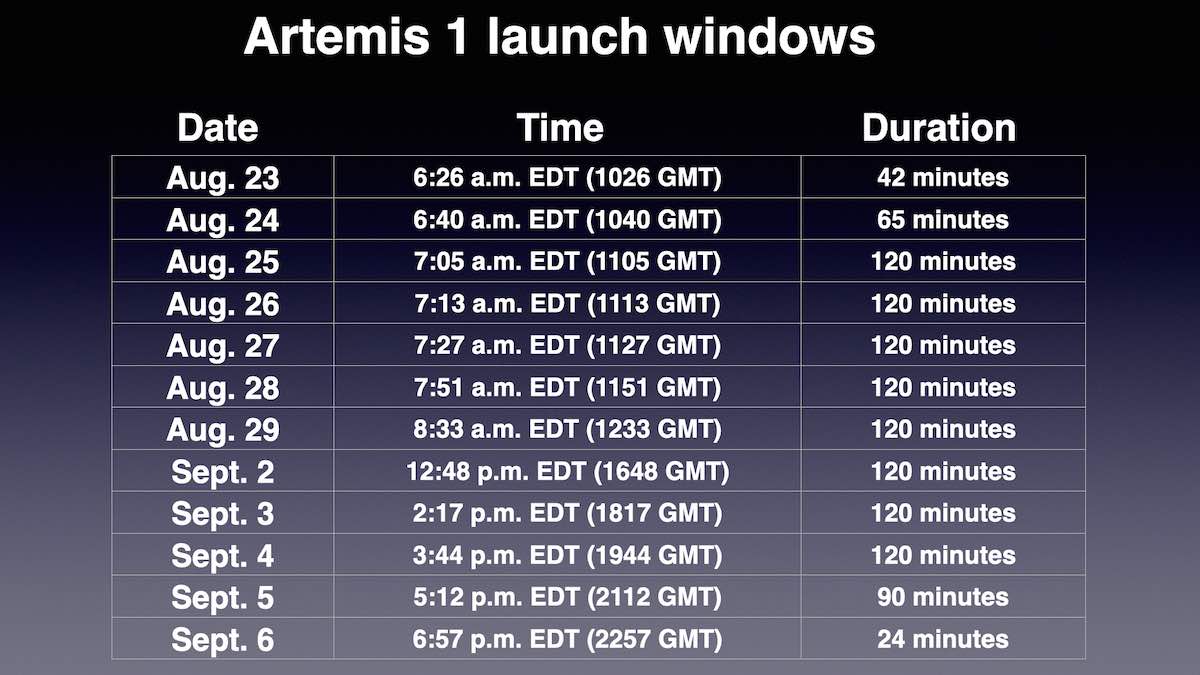 Wherever it flies, the initial "block 1" SLS rocket will be the most powerful rocket ever built for NASA, generating a record-breaking 8.8 million pounds of thrust on takeoff using four RS-25 main shuttle engines and two five-segment solid fuels. reinforcement.
Future variants will increase this level of power to 9.5 million pounds of thrust using upgraded boosts. For comparison, NASA's legendary Saturn 5 rocket that propelled astronauts to the moon in the Apollo program produced 7.5 million pounds of thrust using five massive F1 engines.
NASA administrators had hoped to launch the rocket earlier this summer, but engineers encountered a series of mostly Earth-based system problems during four countdown cycles of exercises and refueling tests.
During the most recent exercise on June 20, the launch team finally filled the rocket tanks with a full payload of 750,000 gallons of supercooled liquid oxygen and hydrogen fuel. But sensors detected a hydrogen leak in a 4-inch quick-disconnect coupling used to direct cold propellant to the pre-cooling main engines.
During actual counting of release, leaky fitting may cause rubbing. But because the engines would never be fired during a test run, hydrogen was not allowed to flow through the line and the countdown timed out all the way to the 29-second T-minus when the rocket's flight computer, indicating no engine cooling, called a halt as expected.
Three previous refueling tests were interrupted by a variety of problems, including leaks in a different hydrogen feed line connector. In all three cases, the countdown was interrupted well before the fuel loading was completed and well before the "final" phase, the last 10 minutes, had begun.
After a mostly successful fuel test on June 20, the SLS was pulled off the platform and returned to the Vehicle Assembly Building on July 2. Since then, engineers have been working to fix the hydrogen vent line installation and carry out other pre-launch preparations paving the way for the flight.

#NASA #tentatively #targets #August #flight #SLS #lunar #rocket #Spaceflight