Geraint Thomas was not defeated, but he accepted reality. Disaster bar for him or the two riders in front of him, third place in the Tour de France 2022 is within his reach.
But his chances of a second win seem slim.
The Welshman had fought smart and stubbornly for fourth on the race's first major visit to the high Pyrenees, but was left behind by the fast pace of United Arab Emirates rider Brandon McNulty on the Col de Val Louron-Azet.
"It's tough now, isn't it," he said when asked if he could climb the overall ranks at the finish line. "I don't know how far I was, something like two minutes and they're super strong as we know, but it's good to be in the mix."
The gap between the 2018 Tour champion and the yellow jersey is now 4-56, with Tadej Pogačar in second place slightly closer at 2-38 in the standings, while his advantage over Nairo Quintana in fourth place is 2 -57.
When asked if he could feel comfortable in third place now, the Ineos Grenadiers leader said: "Obviously it's a decent advantage, but we saw that everyone had really bad days, aside from Vingaard right now, well and I haven't had a really bad day yet. Hopefully I can keep riding the way I am and hopefully it solidifies this place. But tomorrow, we'll see.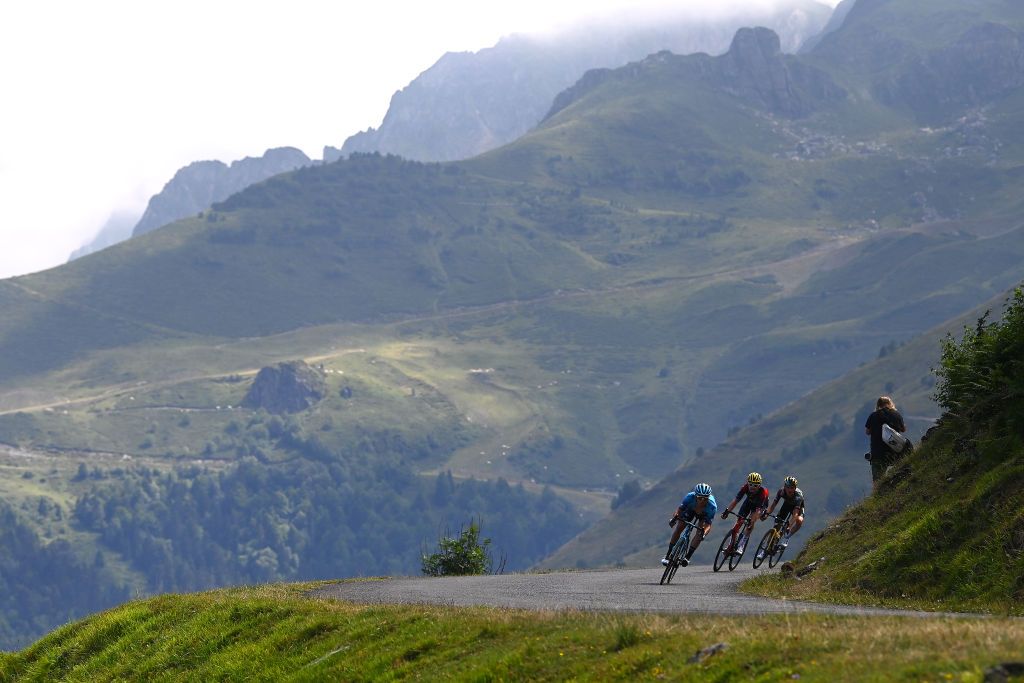 Stage 17 was Thomas's worst day so far in terms of time lost for the top two, but even then he won over everyone behind him in the GC pecking order. Dropped on the penultimate climb of the day, he joined a following group to climb to the foot of the final climb towards Peyragudes before repelling an attack from Romain Bardet (DSM) and then everyone in fourth place of the day. .
Ineos Grenadiers sporting director Steve Cummings added: "You can't really have that [racing for third] state of mind. I think it's just doing the best we can and then let's see what it brings us… But yes, something would have to happen, right now, to change things.
Thomas said he didn't feel "tip top" today. "I decided to wait for the group behind rather than trying to fight back and go into the red to get back into that group and risk blowing up and maybe losing even more time," a- he declared.
He was full of admiration for three-time U23 world time trial champion Mikkel Bjerg (UAE Emirates) who had made a big turn at the bottom of the Val Louron-Azet pass putting many of Pogačar's rivals in difficulty. "He made quite a change for the driver he is," he said before adding that the Slovenian deserved the win for his exhausted team who took the race aggressively.
"Fair play with everything they had for breakfast," he said of the Middle East-backed team.
He said he had no particular strategy he would look to use in the final mountain test other than trying to keep his legs cool and strong. "I think we're just going to just keep doing whatever we're doing, doing the basics, trying to hydrate and eat well. Although I'm sick of it now, it's crazy how you can even get sick of drinking," he said.
Thomas may have been forced to lower his sights from the top step due to the form Pogačar and Vingaard displayed, but he showed he was in a class of one behind those two outstanding runners. We suspect that he can take pleasure in it.
The Ineos Grenadiers suffer
While Thomas had a mediocre day, his fellow leaders at Ineos did worse.
Adam Yates lost even more time than Thomas on Stage 17 and slipped to ninth overall.
The Bury-born runner has, Cummings revealed, suffered from a respiratory illness which has swept through the Ineos Grenadiers camp. Dani Martinez and Jonathan Castroviejo both had a similar illness, which he assured us was not Covid, and took antibiotics throughout the race in hopes of recovering.
Meanwhile, Tom Pidcock, who had held on to a top ten spot until stage 17, also dropped to 15th. Cummings said that to his knowledge, Pidcock was not ill. "It's his first Tour de France and you just have to keep it in perspective, really," he said. "He won a massive stage. He worked a lot for the team in the first week. And he was flawless, really.
#Geraint #Thomas #consolidates #place #Tour #France #podium